Click below to view and download the Lightning Docs user guide.
We have revamped the treatment of construction loans in the interview, as well as the construction loan agreement and construction reserve language. Previously, for many of our advanced users, we had enabled more complex construction loan language to be used. We have decided to make all of our construction loan agreements available to all users and permit all users to determine the appropriate forms of agreements to be used based on their loan scenario.
The following list highlights some of the bigger changes you will notice:
Interview now focuses on type of construction to help guide your choice:
Most transactions will fall in the "Standard" category while ground up will be the "Extensive" one. Once you select the type of construction, the rest of the interview should look familiar. We do not recommend using "Simple Reserve" unless there is a single distribution of construction funds and the holdback is less than $50,000.
We have also made various edits to the construction loan agreement to create easier to follow definitions throughout the agreement which affect the Standard and Extensive Construction Loan documents.
More fully incorporated references to Construction Completion Guarantor throughout the documents, when relevant.
Cleaned up some language for non-construction provisions, including adding definition of Lender Retained Funds, and changing references to "Secured Obligations in the impounds section to "Impositions."
Changed references to "Construction Holdback" in documents and interview to "Construction Reserve" for consistency.
Please note that if you are re-entering and modifying a previous loan interview, you must answer this new question, otherwise your interview will not be able to fully finish.
Other Updates
Modifications to D.C. Security Instrument to include "Purchase Money" before "Deed of Trust" in the title of the document. See the screenshot below for a modification to the User Interface. Users will be required to identify whether the property is a purchase money property.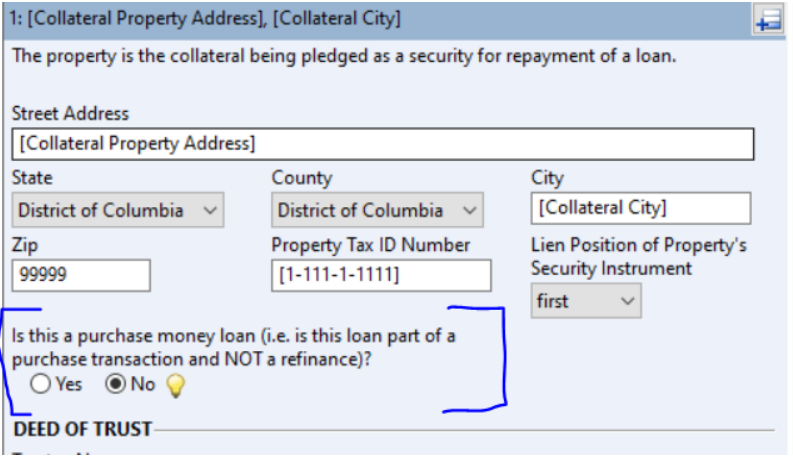 We have added resource text (lightbulbs) when answering which Index is to be used for Adjustable Rate Loans. The resource text identifies the language that will be used for each different index available. We also added 12 Month SOFR to the Index dropdown. Also, we moved the LIBOR indexes to the bottom of the list, as they are less frequently used.
Added payment addresses for loan servicer Selene.
Style changes related to Impounds Accounts and related definitions.
Updates to Indiana Security Instruments.
Update to Nevada documents modifying certain statute references.
Cleaned up some language for non-construction provisions, including adding definition of Lender Retained Funds, and changing references to "Secured Obligations" in the impounds section to "Impositions."